The NEXT STEP Set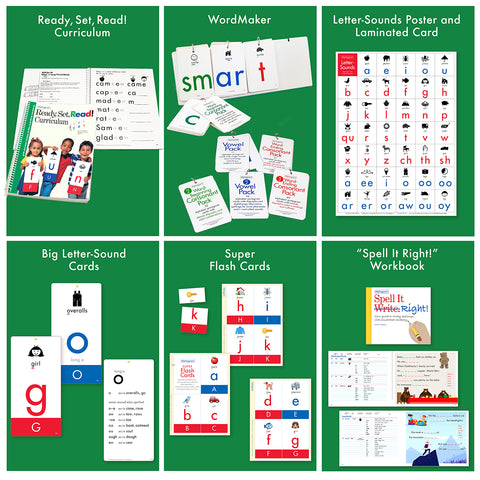 Description:
Designed to bring your student or child who's mastered blending C-V-C words to the next level! This is the set for those who've been successfully using the "Is It a Word–Or Not?" flip-book.

You'll get the seven most requested Alphagram products for teaching reading, writing, and spelling. Save $15 off individual product prices:

WordMaker
Spell thousands of simple to complex words with this set that includes a sturdy corrugated stand and six letter-sound card packs—a total of 159 cards: Word-Beginning and Ending Single Consonants, Short and Long Vowels, Level 2 Vowels with Digraphs, Diphthongs, and r-Controlled, Level 2 Word-Beginning and Ending Consonant Digraphs and Blends, Consonants with Silent e's, Suffixes. 
'Ready, Set, Read!' Curriculum
160-page illustrated book packed with 38 flexible skill sets—from letter-sounds and blending through tricky spellings and decodable stories—with Orton-based lesson ideas, games, student worksheets.
Letter-Sounds Poster & Chart
One 19 x 26" wall poster and one 8.5 x 11" student reference chart, both with
Alpha-picto-Grams that cue 41phonemes.
Big Letter-Sound Cards
44 phonemes + 'magic e' on super-fun 6 x 11.5" activity cards. Card backs list alternate spellings for each sound.
Super Flash Cards
Cut them out and spell words with them! Colorful emojis cue the letter-sounds. 
'Spell It Right' Workbook
Whimsical illustrations help everyone master homophones, tricky sound-alikes ('tale'–'tail') with different meanings. 
Please see individual products for detailed descriptions and more photos